Tonight, I want to take a minute to celebrate my daughter Mackenzie … she turned 11 eleven days ago now …
This girl is amazing …
Watching how she spends her time is a gift …
Her focus, her dedication, and her thoughtfulness are awe-worthy …
For several days, my girl prepared gifts for her friends … step by step by step … first their (homemade) macramé cowboy hat holders … then personalized and customized name art for each friend, personalized bookmarks, then wrapped gum and homemade cards with $11 tucked inside (they were also turning 11). Everything was carefully wrapped in tissue paper (a specific colour for each person), and sealed with a special (homemade) sticker … all items were then tucked into wrapped cardboard boxes with lids (which she also crafted with scissors, an X-acto knife, and hot glue), then wrapped with special paper so they looked nice. 
She took time to write a special and personalized note in each card, preparing a rough copy first, polishing her spelling and punctuation (mostly on her own) and then transferring it to the card as her "good and final copy." She was thoughtful and kind with her words and required zero prompting from me for this entire project from start to finish!
She did ALL of this for the boys, then repeated it all (save the bookmarks) for their little sister so she would feel included (and loved) too!
It was quite beautiful to witness!
Next, was planning and preparing for her birthday parties. Her first party was here at home. She prepared and hung a happy birthday banner and some balloons. She set the table with place settings, fresh flowers, and confetti, and she added helium balloons to each chair.
Of course, she planned her outfit as well … which jeans she would wear, how she wanted her hair, and her new earrings from a special Stacy … a couple of thoughtful gifts like this sweet "Just a Girl Who Loves Horses" sweater (from an equally special, but different Stacey) and a new western belt from her sisters were the icing on the cake!
She prepared her cake in stages … mixing and baking a chocolate cake on Monday (with very little assistance), mixing and baking a white cake on Tuesday (with no assistance), then icing and decorating her cake all by herself on Wednesday.
Today, we celebrated turning 11 with some friends and horses … this horse crazy girl's ABSOLUTE dream come true!!!
Mackenzie prepared (and thought of) everything!
Horse cupcake toppers, granola bar wrappers, drink wrappers, cute little signs, a (new) birthday banner (see below), treats for the horses (homemade, of course … you can order yours here), and treats for the humans. She also crafted little thank you notes for her friends, and for the adults who made today possible! And, not just any thank you note, a kind and thoughtful letter expressing deeply how much this whole thing means to her!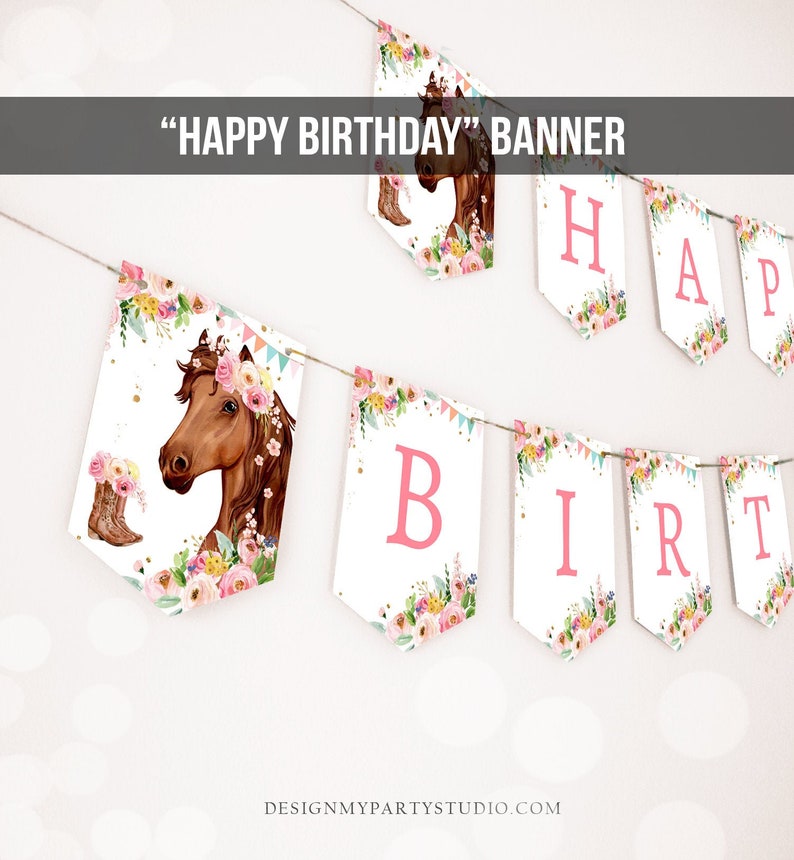 Watching and witnessing my daughter being creative and crafty and thoughtful for WEEKS now has been such a gift (though you can imagine the messes!) … it's inspiring … it's led to so many wonderful and important conversations … like how we're willing to invest HOURS and HOURS into doing the things that we love … the things that have a purpose … the things that (hopefully) mean a lot to (and make a difference for) others … ESPECIALLY when we're able to tap into our gifts and talents (as she obviously has) …
I can't wait to see what's next for this girl! And, of course, if you need help planning a party or prepping some decorations, she would be absolutely delighted to help!